AAHA Accredited
The American Animal Hospital Association (AAHA) is a non-profit organization in the United States and Canada that accredits companion animal veterinary hospitals.
Our animal hospital underwent a rigorous evaluation process to become AAHA-accredited, ensuring that they meet the over 900 AAHA Standards of Accreditation. These guidelines cover a variety of topics, including hospital safety, patient care, diagnostics, pain management, contagious disease management, continuing education, dentistry, and emergency/urgent care.
Fear-Free Training
Highland Animal Hospital is proud to be working towards a Fear-Free certification, and we're happy to announce we will be completely certified within the next year.
Being Fear Free aims to reduce fear, anxiety, and stress in our patients to create a better visit and healthier pet.
Understanding and knowing how to respond to and address signs of stress in pets, assisting clients in planning for lower-stress appointments, creating a calm environment in our hospital, and more will all be part of Fear-Free protocols at our hospital.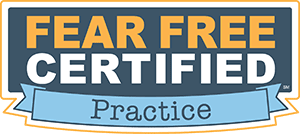 New Patients Welcome
Highland Animal Hospital is accepting new patients! Our experienced vets are passionate about the health of Augusta companion animals. Get in touch today to book your pet's first appointment.